Hey everyone!
This last week has been so much like the card I drew, it's unbelievable. Normally there needs to be some sort of insight into the card to relate it but nope, not this week!
This week I drew The Wanderer from The Wildwood Tarot, which in most decks is The Fool.
At first glance, The Fool seems like a negative card just from its name, but in the Wildwood Tarot, the spin on the fool is that he is a wanderer which puts more emphasis on happy new beginnings rather than car crashing into new things haphazardly.
Here is a picture of the Wildwood Wanderer:
Note how he's stepping off the safety of the woodland road onto a narrow rainbow path. The wanderer's arm gestures imply that this road has just appeared before him (NB: this is just my interpretation! Feel free to comment if you disagree!). This differs from the Rider Waite version (see below). The Rider Waite version implies stepping forward into nothingness, and the whimsical look suggests that the fool is blind to what is in front of him, rather, viewing the sky with blind optimism.
In regard to me personally, this week has indeed been a week of happy new beginnings: I started focusing more on my languages, developed some new routines for self care, and overall just had a fresh new look at everything.
This is the lesson that we need to take from this card at the moment. Use your free time to examine what you have and figure out if it builds part of that rainbow that the wanderer is stepping onto, or if it's part of the gushing river below. The river, to me, reminds me of fleeting issues, as does the mist: these things will either run their course with or without your intervention or dissipate. Do you want to waste your time focusing on either trivial things that ultimately don't matter, or things you can't change? I didn't think so.
What is your rainbow of life made of? What do you need in your heart of hearts to be fulfilled? Now is the perfect time to take that leap of faith and step onto that rainbow.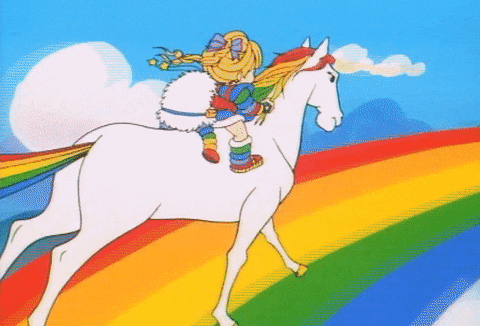 This is a fairly simplistic reading as the words were pretty much written on the card! Do you have any other interpretations for this card? Do you think the reading would have been different (thinking about the world this week) if I'd drawn The Fool from the Rider Waite deck?
Please feel free to comment below or just private message me! I love nerding out about this stuff.